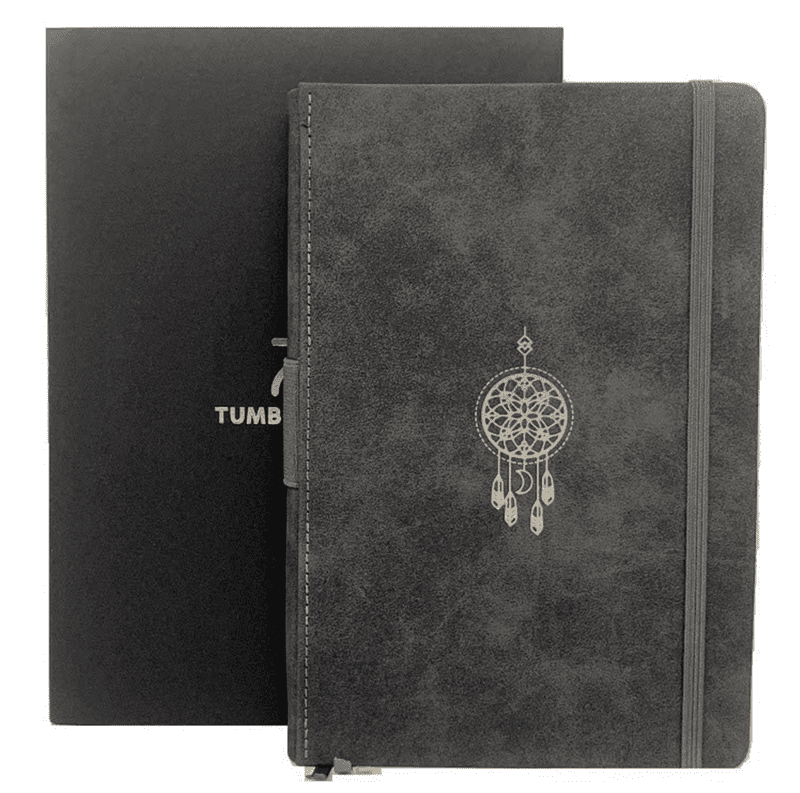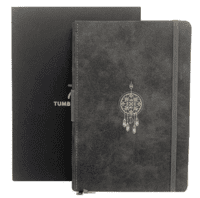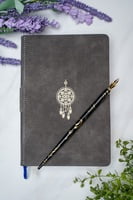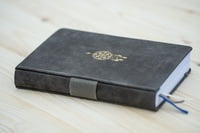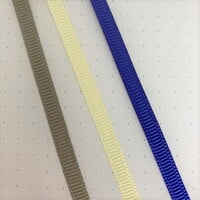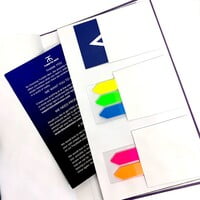 Pia Charcoal Grey
· A GORGEOUS DOTTED NOTEBOOK- Inspired by an IG follower, my Pia Notebooks are one of a kind bullet journals with features that you won't find anywhere else. The Tumbitri Meri® Pia Notebooks are 5 x 8.3 inches in size and are the perfect dot grid notebooks for those wanting to really delve into their creative side.
· "STICKER" POCKETS IN THE BACK- After asking the bujo community for their input into what they would like to see in a bullet dotted notebook a member of the community came back with a suggestion of small pockets to store small items such as stickers, as the standard expandable back pocket is too big and small things often fall out, and so the Pia Notebook was born. I added not only a back pocket but also smaller pocket for smaller items.
· THICKER 160 GSM WHITE ACID-FREE PAPER- Ideal for using a variety of mediums, including pens (such as fountain pens, Tombows and UNI pin), watercolors and pencils, with no bleeding and feathering and minimal ghosting. The super thick paper means that it can handle even the juiciest of pens and the white paper will make your colors really pop in your notebook
· EXTRA FEATURES- 3 page markers; expandable back pocket; 4 index pages; 220 numbered pages; 180° lay flat design; comes in a box so is perfect for giving as a present
· DESIGNED IN AUSTRALIA- I am a one woman show and I have very thoughtfully designed my notebooks with love and care. I have one mission- to provide bullet journalists and notebook users premium quality, gorgeous and functional notebooks that they can record their amazing lives in. I hope you love and enjoy my notebooks as much as I have loved and enjoyed creating them for you.
· WHAT MAKES MY NOTEBOOKS BETTER? I have included everything people love about dotted notebooks, like sewn binding so it lies flat when open; Pen loop in the spine for convenience; Super soft faux leather that feels beautiful in your hands, with a hard cover for durability; And fixed everything people don't love about dotted notebooks, like added thicker paper, page numbers, an extra page marker and extra-strong binding
· PEN TESTING GALORE! I have tested UNI Pin, Magic Color, Faber Castell watercolors, Stabilo Point Fineliners, Tombow Dual Brush, Artline Calligraphy and Fineliner plus many more. The uncoated 160 GSM paper means that the paper is thicker and more absorbent and therefore has no bleeding or feathering and minimal ghosting with most pens; White paper so that colors really POP on the page. Pens glide over the pages creating a wonderful drawing and writing experience
· 220 DOTTED NUMBERED PAGES (LAST 8 PAGES ARE PERFORATED FOR EASY REMOVAL); PLUS 4 x index pages, PLUS a front-end page with name and 'if found' page; All dotted pages are numbered for easy organization; Dots are spaced 5mm apart- 39 dots down and 27 across
· 3 x PAGE MARKERS, STICKER POCKETS, EXPANDABLE BACK POCKET AND PRESENT BOX; 3 x grosgrain page markers. Mark up to 3 pages in your notebook for easy referral. "Sticker" pockets for small items; Expandable back pocket for storing larger things. Comes in a box so is perfect for giving as a present or for storing your much loved notebook after you have completed it
· WHY BUY TUMBITRI MERI® NOTEBOOKS? I have strived to create a better notebook for all notebook enthusiasts and I am a brand that will always put my customers first