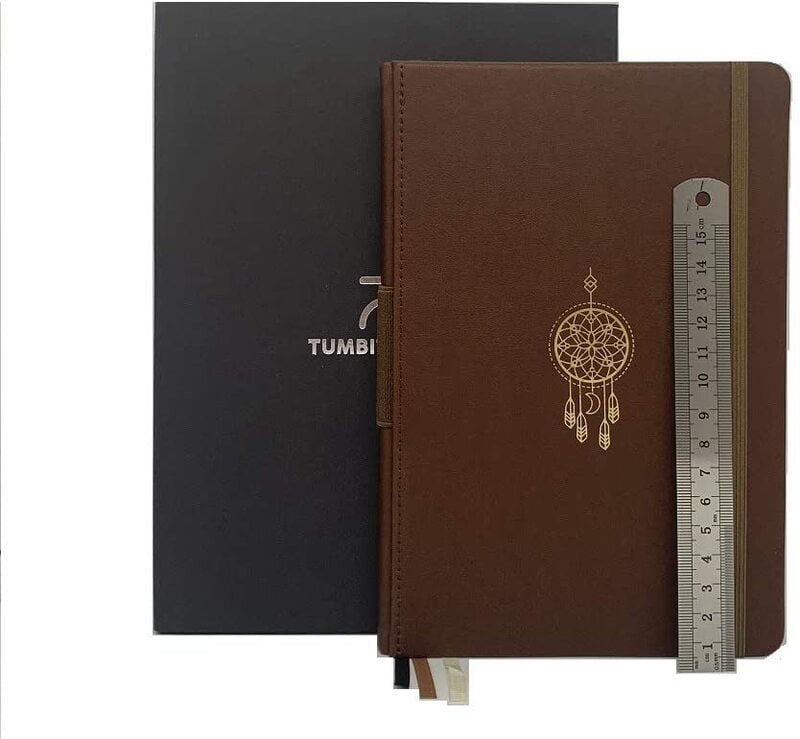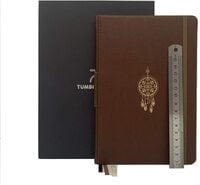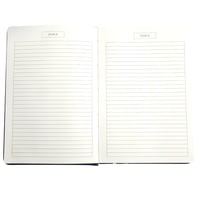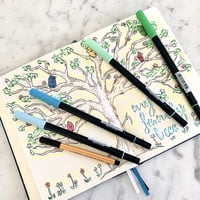 Original Chocolate Brown
· ALL THINGS BRIGHT AND BEAUTIFUL- The Tumbitri Meri® "original" dotted notebook is 5 x 8.3 inches in size. The perfect dot journal for bujo lovers and for those that love their bullet journals to be both functional and beautiful. Perfect for bullet journaling, scribbles, corporate/executive notebook, note-taking, doodling, travel diary, art diary, recipe book, planning a vacation and everything in between
· STAINLESS STEEL RULER INCLUDED- The notebook comes with a ruler that has its own pocket in the front of the notebook. Perfect for those of us that love to journal on the go!
· THICKER 120 GSM WHITE ACID-FREE PAPER- Ideal for using a variety of pens, pencils and even fountain pens with no bleeding and feathering and minimal ghosting. Colors will really POP on the white pages, creating those gorgeous spreads that you work so hard on.
· EXTRA FEATURES- 3 page markers; expandable back pocket; 4 index pages; 180 numbered pages; a buttery soft but hard cover designed for durability; 180° lay flat design; comes in a box so is perfect for giving as a present or for storing your much loved notebook after you have completed it
· DESIGNED IN AUSTRALIA- I am a one woman show and I have very thoughtfully designed my notebooks with love and care. I have one mission- to provide bullet journalists and notebook users premium quality, gorgeous and functional notebooks that they can record their amazing lives in. I hope you love and enjoy my notebooks as much as I have loved and enjoyed creating them for you.
· WHAT MAKES MY NOTEBOOKS BETTER? I have included everything people love about dotted notebooks, like sewn binding so it lies flat when open; Pen loop in the spine for convenience; Super soft faux leather that feels beautiful in your hands, with a hard cover for durability; And fixed everything people don't love about dotted notebooks, like added thicker paper, page numbers, an extra page marker and extra-strong binding
· PEN TESTING GALORE! I have tested UNI Pin, Magic Color, Faber Castell watercolors, Stabilo Point Fineliners, Tombow Dual Brush, Artline Calligraphy and Fineliner plus many more. The uncoated 120 GSM paper means that the paper is thicker and more absorbent and therefore has no bleeding or feathering and minimal ghosting with most pens; Bright white paper that makes colors really stand out. Pens glide over the pages creating a wonderful drawing and writing experience; Acid-free paper that is resistant to damage from light and air
· 180 DOTTED NUMBERED PAGES (LAST 8 PAGES ARE PERFORATED FOR EASY REMOVAL); PLUS 4 x index pages, PLUS a front-end page with name and 'if found' page; All dotted pages are numbered for easy organization; Dots are spaced 5mm apart- 39 dots down and 27 across
· 3 x PAGE MARKERS, STAINLESS STEEL RULER, EXPANDABLE BACK POCKET AND PRESENT BOX; 3 x grosgrain page markers that will not fray. Mark up to 3 pages in your notebook for easy referral to your pages. Stainless steel ruler included with a front pocket for ease of storage so you will always have a ruler handy when you need it; Expandable back pocket for storing things. Comes in a box so is perfect for giving as a present
WHY BUY TUMBITRI MERI
®
NOTEBOOKS?
I have strived to create a better notebook for all notebook enthusiasts and I am a brand that will always put my customers first